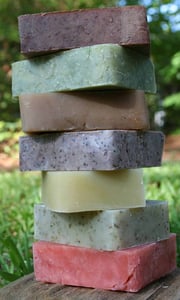 $

60.00
This gift brings pure pleasure all year long! Just for fun, a different soap will be mailed every month for a year.
On the first of every month, we will send the bar of the month to the recipient via first class mail. Shipping is included in the total cost. A great gift idea and big savings!
100% Natural. Made with olive, coconut, palm, and rice bran oils. Scented with essential oils. All soaps are packaged in a kraft brown box with a label reminiscent of vintage fabric. Each bar weighs 4 to 4.25 oz.